---
September 12, 2016
REPRESENTATIVE GIFFORD TO HOST COMMUTER RAIL FORUM WITH HOUSE TRANSPORTATION CHAIRMAN STRAUS
BOSTON –State Representative Susan Williams Gifford (R-Wareham) announced today that she will be hosting an informational meeting on the proposed alternative South Coast Rail link through Middleboro. The forum will feature her colleague and House Chairman of the Joint Committee on Transportation, Representative Bill Straus (D-Mattapoisett).
The forum will take place on Wednesday, September 21st, 2016 at 7:30pm at the Wareham Town Hall auditorium, 54 Marion Road. The meeting is open to the public and anyone interested in the Middleboro proposal as an alternative to the Stoughton line and the future of commuter rail extension to Wareham is encouraged to attend.
"This proposal of routing commuter rail from South Station to New Bedford and Fall River through Middleboro has some very positive possibilities," said Rep. Gifford. "In addition to cost and environmental mitigation, the proposal may also solve some of the drawbacks to extending regular commuter rail service to Wareham."
This forum precedes a scheduled public meeting of the MassDOT and MBTA on South Coast Rail on Thursday, September 22nd, 2016 at Middleboro High School Auditorium, 71 Grove Street, beginning at 6:30pm. For more information, please contact Rep. Gifford's office in Boston at (617) 722-2100 or her District Office at (508) 295-5999 or by e-mail at Susan.Gifford@mahouse.gov
---
A Message from Susan
Thank you for visiting my online district office! I developed this website to help you connect to your government, and hope that you find it a useful informational tool.
From my efforts on the local level as a Wareham Selectwoman to my current tenure as State Representative for the 2nd Plymouth District, I have worked hard over the years to address the needs of area communities and look forward to continuing to do so for years to come.
As always, please feel free to contact me with any issue or concern you may have, and many thanks for your continued support.
Sincerely,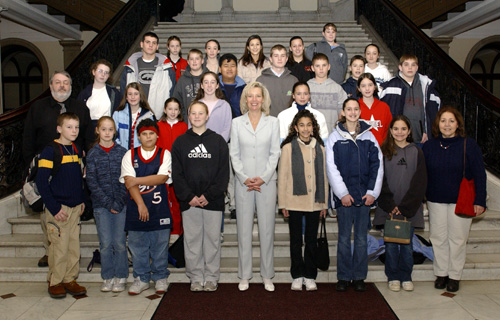 To help youth constituents learn about the State House and the legislative process, Susan hosts students from the Wareham Middle School on a tour of the state capitol building. more photos >>