View:Susan's October 2016 Newsletter
---
WAREHAM, MA— Over 100 supporters came together June 21st at The Bay Pointe Club to join State Representative Susan Williams Gifford as she kicked off her re-election campaign for her 9th term for State Representative for Wareham, Carver, and Middleboro.
Lieutenant Governor Karyn Polito headlined this event. The Lieutenant Governor expressed her support and confidence in Susan and her ability to work hard for her constituents, "We [on Beacon Hill] should be responsible for how we balance budgets, and for Governor Baker and I, we are so grateful to have had Susan's leadership. When we came in, we had a billion dollar deficit and we managed that, by setting priorities, living within our means, and not asking the taxpayers and the business community to pay more to help us solve our problems. Susan was always right there with us, taking the difficult votes, but she knew it was the right thing for the people in her district and this Commonwealth."
Susan addressed her supporters, "We need to look for every opportunity that we have to take advantage of grants, and funds, and all kinds of other programs, that the Baker-Polito Administration are providing for our cities and towns because believe me times are tough everywhere. We need to make sure that we take advantage of every resource that we possibly can. We all have a deep passion for our districts, and rightly so, because that's what it's all about. It's not about us, it's what we can do for you."
Susan talked about some of the many issues that she is working hard on for her constituents. "I have been working very diligently, with the Baker-Polito Administration on some very important issues. One of which is the Opioid Addiction Crisis. The Baker Polito Administration has taken the lead on trying to address this problem head on by providing funding and more beds in treatment centers for people who want to get treatment to help beat their addictions, and also provide service for their families. It just doesn't affect the addict, it affects families, it affects friends." Susan continues to fight for us in combating the Opioid Crisis that has taken a toll on our Massachusetts communities.
Susan does not stop at battling the Opioid Crisis. She continues to work on other issues to keep us all safe. She shared another one of her current priorities with us, "I am also very much looking forward to working with the administration, as well as our District Attorney Tim Cruz in legislation that the Governor has just filed in regard to those who prey on young children… Those people who should not be let out of prison on a technicality because they have simply served their time." In her over fifteen years as State Representative for the 2nd Plymouth District, Susan has accomplished so much for not only her local communities, but for the Commonwealth of Massachusetts.
As State Representative, Susan has served on many Legislative Committees including: Environment, Natural Resources, and Agriculture; Health Care Financing; State Administration and Regulatory Oversight; the Tourism Funding Formula Commission, Insurance; House Personnel and Administration; Financial Services; Steering, Policy and Scheduling; the Coastal Hazzard Commission and the Cranberry Revitalization Task Force. She will continue to pursue fiscal responsibility and government transparency on Beacon Hill; a representative her district can proudly stand behind. Her experience in government institutions as a Selectman and as State Representative has given her the tools she needs to tackle these serious issues we face as a community. But her technical skills are not the only thing she brings to Beacon Hill. Her conviction and dedication to her district has served, and will serve, in bringing a strong voice to represent the needs of her constituents, and she continues to be a beacon of hope for all of us on Beacon Hill, a promise for a successful and united community. For more information about Susan Williams Gifford, please follow her on Facebook at www.facebook.com/StateRepGifford/
---
A Message from Susan
Thank you for visiting my online district office! I developed this website to help you connect to your government, and hope that you find it a useful informational tool.
From my efforts on the local level as a Wareham Selectwoman to my current tenure as State Representative for the 2nd Plymouth District, I have worked hard over the years to address the needs of area communities and look forward to continuing to do so for years to come.
As always, please feel free to contact me with any issue or concern you may have, and many thanks for your continued support.
Sincerely,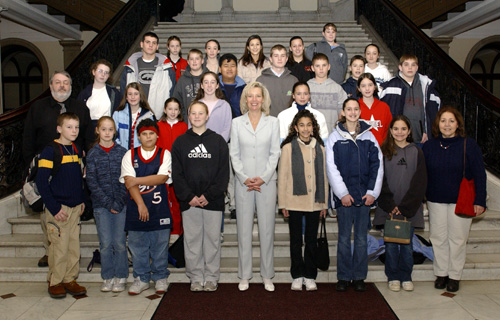 To help youth constituents learn about the State House and the legislative process, Susan hosts students from the Wareham Middle School on a tour of the state capitol building. more photos >>